Emmanuelle
is one of those movies with a place in cinema history that has little to do with its actual merits as a film. It remains possibly the most commercially successful erotic film of all time (although accurate box office figures aren't always easy to come by in this genre), the movie that broke down (temporarily at least) the barrier between pornography and mainstream movies, and the movie that proved there was a market for erotic movies aimed at women. Although it's often touted as the first sex movie aimed at a female audience that's perhaps not strictly true – Radley Metzger had been pursuing a similar aim for several years in movies such as his 1969 feature
Camille 2000
. But
Emmanuelle
was the one that broke through at the box office, a genuine softcore blockbuster. It remains one of French cinema's biggest hits.
(
Collapse
)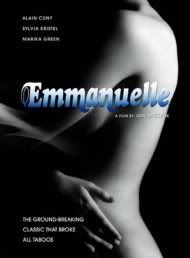 Werewolf Woman
(
La Lupa mannara
) starts off with every indication that it's going to be yet another retread of a very hackneyed plot idea. It does, however, add some unexpected twists and some surprising perspectives and the end result is a rather entertaining werewolf movie. Daniella is a young woman troubled by dreams, dreams that relate to an ancestress of hers, a woman who was executed as a werewolf. Rather than a supernatural explanation, the movie attempts a scientific (or pseudo-scientific) one. More specifically, the explanation is psychological. This young woman was brutally raped some years earlier, and has developed a sexual phobia. This sexual phobia, combined with memories of childhood stories about her werewolf ancestress, convinces her that she really is a werewolf, and her obsession is so strong that she in effect does become a werewolf. The movie is as much a rape revenge movie as a conventional werewolf movie.
When her sister arrives at the family home with her new boyfriend, thing start to unravel for Daniella. She watches them having sex, and her horror of the sexual act triggers a major psychotic episode leading to tragic consequences. Daniella roams the countryside, cycling constantly between a confused state of sanity and a severe delusional state. She finds men who try to take advantage of her, but she also finds a good man, a man she can love. But she is not destined to enjoy the simple pleasures of love, and once again she finds that violence and tragedy are stalking her.
Annik Borel is genuinely scary as Daniella. In fact she apparently got into the role so much that it took her quite a while after a take to snap out of character (according to the interview with the director included on the DVD). I wouldn't say she's a good actress but it's a weirdly effective performance. There's considerable gore, and sleaze aplenty. This is very much an exploitation flick, delightfully trashy, although with a few interesting ideas as well. The werewolf make-up (which we only see fairly briefly) works surprisingly well. There's also a very strange scene with a lizard. Rino Di Silvestro directs with a certain amount of panache. If you approach it as a fun feast of sleaze and (moderate) gore then there's much to enjoy.
The Shriek Show DVD presents the movie is an English dubbed version unfortunately, but it looks terrific.